Author: HOMESCHOOL IN THE WOODS
Consumable Item


Included in these packages:
30 Timeline Figures for Sonlight F on self-adhesive heavy card stock. Just cut them out, color and stick them in your Timeline Book.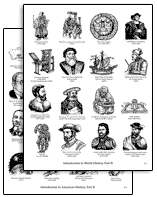 Sonlight's Timeline Book paired with program-specific Timeline Figures make creating your own timeline easy and delightful.
Figures included in this Timeline Figures set are:
J. Hudson Taylor (1832-1905)
Mary Slessor (1848-1915)
Islam begins (ca. AD 622)
Mohammed (ca. AD 570-632), Islam's founder
Mongols take Baghdad (1258)
Commodore Matthew Calbraith Perry (1794-1858) opens Japan to trade
Meiji era (1867-1912)
Jesuit Father Matteo Ricci (1552-1610) arrives in mainland China (1583)
Hiroshima hit by Atomic Bomb (August 1945)
William Carey (1761-1834) goes to India
Communist regime rules China (1949-present)
Confucius (ca. 551-479 BC)
Shang dynasty (ca. 1600-1066 BC)
Sino-Japanese War (1894-1895)
Boxer Rebellion (1900)
Marco Polo (1254-1324) travels to China
The Great Wall of China built (221+ BC)
Korean War (1950-1953)
Japanese Shogun close borders to foreigners (early 1600s-1853)
Mongols conquer largest empire in the history of thr world (13th Century)
Genghis Khan (ca. 1162-1227) leads Mongols
Magellan (ca. 1480-1521) leads circumnavigation of the globe (1519-1522)
Indian Independence (1947)
Gandhi (1869-1948)
Captain James Cook (1728-1779) sails around New Zealand and Australia (1770)
Mother Teresa (1910-1997)
Suez Canal opens (1869)
Manjiro (1827-1898)
Josef Stalin (1879-1953), Soviet Union dictator
Indian-Pakistan Partition (1947-1957)