Author: HOMESCHOOL IN THE WOODS
Consumable Item
Illustrated Content


Included in these packages:
Over 60 Timeline Figures for Sonlight E on self-adhesive heavy card stock. Just cut them out, color and stick them in your Timeline Book.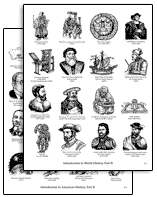 Sonlight's Timeline Book paired with program-specific Timeline Figures make creating your own timeline easy and delightful.
Figures included in this Timeline Figures set are:
Simon Bolivar (1783-1830)
William Wilberforce (1759-1833)
American bison (buffalo) hunted to near extinction (1850s-1900)
Northwest Ordinance (1787)
Harriet Tubman (ca. 1820-1913)
Pony Express (1860-1861)
Missouri Compromise (1820)
California Gold Rush (1849)
Kansas-Nebraska Act (1854)
Abraham Lincoln (1809-1865)
Emancipation Proclamation (January 1, 1863)
The Monitor and the Merrimac (1862)
Cattle drives from Texas to Wyoming (ca. 1865-1890)
Elias Howe (1819-1867) develops the sewing machine
Henry Ford (1863-1947) designs assembly line (1913)
Civil War (1861-1865)
Ku Klux Klan (1866-Present)
Homestead Act (1862)
Reconstruction (1863-1877)
NAACP begins (1909)
Railroads adopt standard time (1883); Becomes law (1918)
Brooklyn Bridge completed (1883)
Columbian Exposition World's Fair in Chicago (1893)
Empire State Building completed (1931)
Theodore Roosevelt (1858-1919)
Spanish-American War (1898)
Woodrow Wilson (1856-1924) president of the U.S. (1913-1921)
Helen Keller (1880-1968)
Panama Canal completed (1914)
Wilbur (1867-1912) and Orville (1871-1948) Wright create the first "airplane" (1903)
World War I (1914-1918)
Amelia Earhart (1897-1937) flies solo across the Atlantic Ocean (1932)
The Dust Bowl (the drought in Oklahoma) (1930s)
Spanish influenza epidemic (winter 1918-1919)
Nicholas II (1868-1918)
Treaty of Versailles signed (June 28, 1919)
League of Nations (1920)
Scopes "Monkey" Trial (1925)
Charles Lindbergh (1902-1974) performs first transatlantic solo airplane flight (may 1927)
Herbert Hoover (1874-1964), president of the U.S. (1929-1933)
Benito Mussolini (1883-1945), Italian dictator
Franklin Delano Roosevelt (FDR; 1882-1945), president (1933-1945)
Social Security tax initiated (1935)
Great Depression (1929-1930s)
Booker T. Washington (1856-1915)
World War II (1939-1945)
George Washington Carver (1864?-1943)
Adolf Hitler (1889-1945), German dictator
Japanese attack Pearl Harbor (December 7, 1941)
Dwight D. Eisenhower (1890-1969), supreme commander of Allied Forces and president
Winston Churchill (1874-1965), British prime minister
Josef Stalin (1879-1953), Soviet Union dictator
Harry S. Truman (1884-1972), as president, drops first atomic bomb
Hiroshima hit by Atomic Bomb (August 1945)
Vietnam War (1954-1975) U.S. in Vietnam (1961-1975)
Rosa Parks (1913-2005) catapults the civil rights movement (1955)
Lyndon B. Johnson (1908-1973)
President Kennedy (1917-1963) assassinated (1963)
Martin Luther King, Jr. (1929-1968) assassinated (1968)
Russians launch Sputnik (1957)
First Moon landing (July 1969)
Bruce Olson (1942-Present)
Andersons finish the Folopa New Testament (1991)