CD-ROM Version
Exploring Creation With Chemistry addresses the theoretical and mathematical basis of chemistry and follows a sequence of learning similar to the biology course. Several fascinating experiments boost learning dramatically as they demonstrate universal formulas and concepts such as mass, density, volume, and more.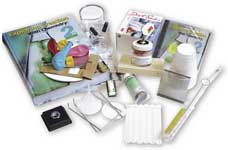 Several projects include solving for unknown ratios, and Exploring Creation With Chemistry explains ratios and their associated calculations better than any math book we've found. (Note: Students who have not completed Algebra 1 prior to taking the course will find the work and calculations challenging to master.) The course includes solutions and tests, multimedia demonstrations and explanations, a Sonlight Chemistry Schedule Plus, and a Chemistry Supplies Kit. Children who learn more effectively with the aid of visual and auditory elements will benefit greatly from the multimedia content. The chemical reactions the clips demonstrate will stir your children's senses with a fizz, crackle, spark, pop, or boom!
If your student completes the experiments that go with the course, he or she will have a true upper-level high school science experience
NOTE: Our Chemistry Supplies Kit does not include the fuel necessary to use the alcohol burner. As the Chemistry Schedule Plus notes, you will need denatured alcohol, which you may be able to purchase this at your local hardware store.
This CD-ROM version of Exploring Creation with Chemistry has all of the information found in the print version of the course, plus multimedia add-ons such as animations, videos, narrations, and audio pronunciation guides.
Study guides and tests (found on the 2nd CD) may be printed out for students to answer on paper. Answers are available to parents on the 2nd CD for manual grading.
The course uses the Microsoft Internet Explorer web browser, but it does not use the Internet. Everything you need is contained on the CD-ROMs. Microsoft Internet Explorer is utilized as the user interface because it is easy to operate and is familiar to most students.
This is a complete course, not a supplement. Includes two CD-ROMs.
Minimum System Requirements
PC:
Windows XP or later (including Windows 10)
CD-ROM drive
Mac:
MAC OS is not supported, but Apologia can be run in X Windows or other Windows environments
CD-ROM drive
Find out more:
Please Note: Items 350-11 and 350-12 are also paired in the Exploring Creation with Chemistry package (350-10).