When your children were young, you taught them to speak as you spoke to them. In the same vein, children learn to write by learning from good models of writing--and trying out those models for themselves. We call this the "natural" approach to Language Arts.
Sonlight programs flow from this principle. Each program guides your children through well-paced writing activities based on the Readers they're already enjoying in their Core program. As your children grow, these activities will guide them through writing their first sentences, simple paragraphs and stories until they're eventually writing gripping creative works and compelling scholarly papers.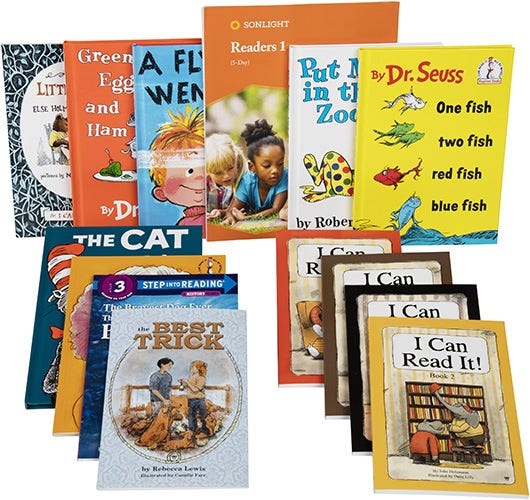 Sonlight® Homeschool Language Arts Curriculum
"Workbooks don't really teach children how to write effectively," says Dr. Ruth Beechick, homeschool expert and author of The Three R's. Instead, students best learn to write well as they:
Listen to good writing,
Look at good writing,
Copy good writing, and
Then, finally, write on their own!
"Benjamin Franklin taught himself to write this way," explains Dr. Beechick. He outlined essays he admired, put them aside for a few days, and later tried an original article by following his outline. "He compared his writing with the model to see where he fell short. Then he tried another, improving his writing all the while."
With Sonlight's Language Arts, your students will practice natural learning exercises like these. And practice is the key ...
Students write a little every day.
Writing lessons come from the books your children read throughout the year. As a result, they remember and comprehend more and more.
Their creative writing lessons apply Dr. Beechick's "natural method":
Students practice copywork and dictation to absorb critical writing skills from the "masters."
They learn writing mechanics--from similes to diction to organization--as they build on each day's practice.
They explore creative writing with tools like zany story-starter pictures and journals.
They also write about what they learn in history, science and literature.
An optional fifth day offers students a chance to play with the written word as they try fun exercises from puzzles to palindromes.
Watch your children's writing skills blossom!
Students encounter spelling words tied to phonics principles in Sonlight® Language Arts (LA) up through second grade. In upper elementary grades, they continue to build vocabulary with words from their books. Meanwhile, they reinforce correct spelling through the highly effective Sequential Spelling program.
In Core D, your children make a smooth transition from the basic mechanics of writing to more in-depth independent writing.
In Cores E-G, young writers learn to do research, draft a wide variety of papers and edit their work. Writing assignments range from personal letters and stories to advertisements and news items.
In every assignment, you'll find plenty of examples to follow from the books your students read. These are the "good models" your children learn to emulate. In time, they grow from these examples and ...
Discover what makes great writing truly great.
As your students grow in understanding, they move from basic writing to analysis.
Students in middle school through high school continue to write creative papers similar to their work in Cores E-G, but at a higher level. They also analyze and write about the books they read, delving into plot, characterization, mood, setting and more.
New and experienced Sonlighters alike will find these natural method programs a fresh and appealing way to learn to write well.
Sonlight® Grammar
Establish a solid foundation for effective writing with Sonlight's unique approach to grammar. Sonlight introduces key grammar "gems" gradually, in the context of your children's daily reading and writing within the Sonlight Language Arts program.
Grammar Ace
For a strong grammar foundation, we encourage students in (approximately) fourth grade to take advantage of the complete grammar program we offer in a pace-yourself course. Learn more about Grammar Ace.
Grammar 5 and 6
For additional grammar study, Grammar 5 and 6 build on the concepts of Grammar Ace and offer fun exercises and practice to solidify your students' grammar knowledge. Learn more about Sonlight's Grammar programs.
Need a writing coach for research papers?
If you're using Core A-C, you can add the appropriate level for each additional student you're teaching with the same Core package. Visit Sonlight's Quick Reading Assessment to find the right level for each child.
For Cores D and higher, your full Readers and Language Arts program is fully integrated into your Core program.