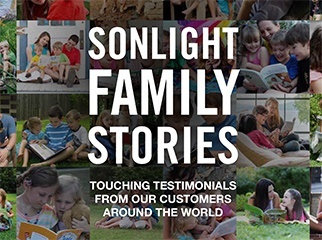 Why do kids, moms and dads across the globe rave about studying with Sonlight? Could it be the joy of discovery, great books, spirited discussions and together time? Get an inside look at Sonlight Family Stories – more than 3,000 reviews of the Love to Learn, Love to Teach experience.
Take a look at our curriculum options and let us help you write your family's best story.
It wasn't long after I opened my first Sonlight Instructor's Guide that I realized everything I needed to succeed was at my fingertips. We chose Sonlight 14 years ago, and in June, we had our first graduate. We've had such an amazing journey, and each of our five children has flourished! The literature has been outstanding, and our times of reading aloud together have created many cherished memories. We've traveled to faraway places, experienced great adventures and wept at moving situations, all while snuggling on the couch or sunning ourselves in the yard. We could never put a price on the bonds that have been formed. Angelina (6, Core B) has been on her Sonlight journey for two years. Here, Mom and daughter share a Sonlight moment.
Sonlight is not just our curriculum, it's our connection as a family. This was our first year with Sonlight, and let me just say, we LOVE it! Since our children are close in age, it has been such a blessing to combine them into the same Core. It has been so much fun to watch the close bond develop between them over the past year. With quality pieces of literature, the stories come to life! These shared experiences have developed a love of learning that will last a lifetime. And for that, my heart is thankful. Here, they share a favorite book (The Lion Storyteller Bedtime Book, from P4/5) at a favorite park. What better way to spend a summer evening?
—
Leslie O,
Noblesville, IN
We were hesitant to try homeschooling, but once we heard of Sonlight's money-back guarantee, we figured there was nothing to lose. It has since won us over and given us confidence to teach our children. We're now growing, learning verses, establishing a biblical worldview and tackling some harder issues – TOGETHER. I love that it's me and my husband doing all those things with them, soaking up our short time together, all in the same home. Sonlight was just what this mama wanted! Curious kids Toby (5, Core A) Marcus (2) and Jack (3) enjoy a Curious George storytime with Dad.
"I'm heading off to college for the first time and can't help but feel a little jealous of my siblings, because they'll be doing Sonlight again this year," writes Kailey H of Marshfield, WI. "My family has loved learning so much since we started using Sonlight. History became my favorite subject, and I consumed all the books in each Core. I'm grateful for the in-depth Student Guides that forced me to think critically and caused me to formulate my own values. I feel well-prepared, and the thought of writing a college-level essay doesn't frighten me. I know I have the tools to be successful. Pictured are siblings Luke (15, Core 200), Abigail (13, Core H), Hope (10, Core G), and Mark (8, Core D).
—
Charis H,
Marshfield, WI
"Sonlight maintains a high standard, but presents information in ways that interest the kids, with hands-on experiments and beautifully illustrated books."
— Tanuja C, Southeast Asia
0ur kids have learned how to think logically and critically and how to teach themselves anything they want to for the rest of their lives. It's like the difference between teaching a man to fish and giving him a fish. I wish many others could grasp how foundational the reading of great books is to a child's education. It seems very logical that language arts, reading and history are tied together. It helps kids learn when there's connection among subjects instead of compartmentalization. If I had it to do over again, I'd use Sonlight from beginning to end. Robin has used Sonlight for the past twelve of her nineteen homeschooling years. Her three oldest have already graduated with Sonlight, and she is savoring her last year with David (17), who is studying Core 200.
—
Robin H,
Oconto Falls, WI
There isn't another curriculum on the market that compares to Sonlight. After years of using so many different types of curriculum and being frustrated and confused, a friend finally turned us on to Sonlight. What a difference it has made for us! Our children, who didn't like to read, suddenly couldn't wait to read. Sonlight brings together just the right amount of history, literature and writing exercises and bundles it with an incredible schedule packed with everything you need to teach your children. I've always worried about my ability to teach my children without a teaching degree. Thank you Sonlight for lightening that burden. Everything I need is right at my fingertips. In their third year of Sonlight, Jennifer (17) reads to Jacob (13) and Jillian (12) from Core W.
Being extremely nervous about taking on this venture [of homeschooling], the Instructor's Guide was what did it for me! I needed detailed, specific instructions on what to do. It took all of the stress out of the day-to-day planning. Other homeschool moms were struggling with their own curriculums. They expressed stress, their children being uncooperative and on and on. And then they would ask me what I was using, and I would tell them about Sonlight. I almost felt guilty in telling them that we weren't struggling. My homeschool journey has been very pleasant and enjoyable. In her third year of Sonlight, Clara (6, Core B) reads to Mom, Dad, Kate (4, Pre-Kindergarten) and Canon (2).
I have structure and direction with Sonlight, so we capitalize on every learning moment. I often get pressured about my choice to homeschool. Thanks to Sonlight, I'm confident that I'm doing the right thing for my girls. I'm learning how to teach as well, which helps melt away the frustration and allows me to be a great teacher and mom. Through Sonlight, I've learned a better approach to phonics, and it has made a world of difference. What I love most is that I don't have to force my kids to learn. Hannah (5, Kindergarten Multi-Subject) and Gracie (2, Preschool Multi-Subject) love learning their letters and words outdoors.
—
Erin O,
Amelia Court House, VA
"When we started using Sonlight, our daughter's [standardized test] reading score soared and our reluctant learner turned into a student with an unquenchable appetite for knowledge!" – Rachel K, Pocola, OK
We love the ministry/spiritual emphasis Sonlight puts in its programs. The whole atmosphere in our home has changed dramatically! More than seven years ago, I felt led to quit a great job to be a stay-at-home mom. This curriculum plays such an important role. I especially love overhearing them during play, using names of the characters and parts of the world we've studied. Family members who were skeptical about homeschooling, which is so unusual in our country, are amazed at their skills and knowledge. I can't say enough about how much we love and believe in Sonlight! After just one year of Sonlight, Aline (6), Aslan (3) and Grace (7), along with Mom, are addicted to literature!
We have seen the truth of Sonlight's claim that children learn history better when they learn it in the form of a story. Because of Sonlight's Readers and Read-Alouds, our kids have a better grasp and wider knowledge base of historical events at the end of middle school than their parents did at the end of college (due to our [non-Sonlight] textbook-style memorization of facts – facts that were soon forgotten or muddled because they weren't part of a story). Vashti (14) mentioned that some of her friends hate studying history. She said, 'If only they could learn history the Sonlight way, they'd love it like I do!' In her eigthth year of Sonlight, Vashti devours a biography from Core H that brings the Iron Curtain era to life.
—
Jennifer W,
Richardson, TX
Sonlight has given us the way to provide a quality, personalized education at a fraction of the cost of private school tuition. One Sonlight Core is the equivalent of one month of tuition for three children at an average private school in our city. I love that Sonlight provides everything I need for the year in one box full of wonderful books. I never thought I would have the type of kids who beg to do school. But two weeks into our summer break, they were begging to start up again! Here, Rebekah and Aliyah (both 8), and Becket (6) show off their geography skills. They are sharing P4/5 and Core B in their second year of Sonlight.
—
Catharine L,
Austin, TX
Sonlight does the heavy lifting for the homeschool family. They select quality books and rigorous studies for children so that the homeschool mom and dad can concentrate on the delivery of the lessons and plan family adventures that serve as a capstone to the curriculum-based learning! In 2010, we took our family on a cross-country tour of twelve national parks and monuments. Sonlight augments this real-world learning with wholesome, quality curriculum grounded in sound educational principles. Here, Mom smiles with Owen, Grace Ann, and Ellen, who were 9, 7 and 4 at the time. They had just completed their Junior Ranger badges at Devil's Tower National Monument. The N family is now studying Core G and Core B.
Not only have we experienced the academic benefits of using Sonlight in our homeschool journey, we've also had the delight of watching this curriculum impact our children's character. When we began eight years ago, little did we know that the seeds planted by Sonlight's inspirational biographies and stories of diverse cultures would sprout up children who long to let God use their lives for His glory. Because of Sonlight, we're watching our children become more aware of the world around them, more sensitive to the needs of hurting people and more confident that God can, and will, use anyone willing to obey His call. Tatum (13) shares one of her Sonlight favorites with Josiah (3), AJ (5) and Greta (10).
I appreciate that Sonlight is not dogmatic in its approach to education. On the more controversial topics in science and history it offers different viewpoints and allows the parents to decide how to present them. Sonlight also sparks our daughters' creativity. After studying weather in science last year, Alena was constantly looking for opportunities to apply her knowledge in real life. Whether it was spontaneously building a rain gauge or being thrilled by a shower of hail, she turned into a budding meteorologist. Here, the 7-year-old uses a book from Science A to identify clouds. Her family has used Sonlight for six years.
—
Becky C,
South Dayton, NY
Sonlight encompasses all the ideals I ever hoped to achieve spiritually and scholastically for my children and provides the tools for me to accomplish those goals. After homeschooling without joy for a decade, I was at a dead end. I approached a Sonlight mom for advice and made the switch. Last year we enjoyed our best school year ever and now own six full Cores! Not only was our school journey transformed, but our lives also, as we began to function better as a family. Here, Gantry (8, Core D+E) shares his Science experiment with Hayden (3, P3/4 Multi-Subject) and Gatlin (6, Core B).
One of the greatest benefits of homeschooling with Sonlight is that it's completely versatile. Whether you're the type of person who is bubbling with ideas on how to supplement your child's school day or you view formal education as unfamiliar territory, Sonlight offers plenty of ideas and opportunities to make your lessons come to life, and gives lots of guidance and support to those who need it. With Sonlight, you don't have to recreate the wheel; they've already done it for you!" In her first Sonlight year, Macayla (6, Core A) enjoys lunch, Ancient Rome style.
—
Leslie H,
Bella Vista, AR
"This was our first year using Sonlight, and this was the first year with no tears, no fits and no tantrums! Thank you for bringing peace to our school."
— Mechyel J, Carencro, LA
Sonlight Bible study materials have been a great help in illuminating the treasures in God's Word. We love that God's Word is at the heart of all Sonlight curriculum. Although we tried a couple of other options, none were as effective in shaping wise and knowledgeable children of God and citizens of society. We're so convinced of this that we're planning to use Sonlight for the high school years ahead. Here, Dad and his favorite students dig into the Word with the help of Sonlight. Hannah (14) and Micah (12) are using Core 100 in their seventh Sonlight year.
—
Heather B,
Grand Blanc, MI
As soon as I saw Sonlight's Instructor's Guides and what awesome books we'd enjoy reading together, I didn't have to look further. My husband and I are teachers by training, so we understand the time necessary for good planning and a successful learning experience. As a mother, I also recognize that I don't have that kind of time anymore. I want to spend my days with my family, not planning for the next school day. Sonlight provides great books, incredibly organized and detailed lesson plans, the freedom to do what works best for our family, and the opportunity to teach our Christian faith. Mom and Dad here share the Good News with Lucas (5, Core A, Science A) and Carlos (2).
—
Sarah L,
Grand Rapids, MI
I am officially convinced that Sonlight has the most fun science program ever! Sonlight science encourages a curiosity about God's creation and a love of learning about it. It is perfect for our boys because it has a good mix of reading, worksheets, outside discovery and hands-on experiments. It is designed in a way that we can all do the same things together, and the teachers manual makes the lesson planning so easy. In their first year of Sonlight, Zachary (5) and Anthony (4) are quite proud of the seedlings they grew with their Science A program.
Sonlight is way more than a series of awesome books to read; it is the habit of sitting down on the sofa and digging into a good book and thoughtful conversations. These times pull our busy family together in spite of a wide variety of ages, interests and energy levels. I was hesitant to invest in a program that at first seemed like 'just books.' But the traditions and values of family time, discussion and critical thinking that our family has developed because of the encouragement I get from the Instructor's Guide is worth far more than I ever dreamed! Here, Ethan (10, Core F), Tristan (4, Core A) and Kian (7, Core F) squeeze in to hear Mom read a Sonlight favorite. They and 13-year-old Zara (Core 100) have used Sonlight since the beginning.
Stephanie R.
Mullica Hill,NJ
—
Stephanie ",
Mullica Hill, NJ
"Sonlight's literature-rich approach has helped our son stretch and grow beyond his own personal experience. Standard textbooks aren't designed to create a thinking human being. Sonlight does that, and more!" — Julie M, Erie, PA
We hope to use Sonlight all the way through our girls' education! We weren't planning to purchase an actual curriculum until Alexa entered first grade. However, I asked my husband to look at the Sonlight website one evening and that was all it took. A true bibliophile, he decided that night that we should order the Preschool Full-Grade Package, and we became Sonlighters! Both girls love to read (or look at) books. Sonlight is perfect for our family! Here, Alexa (5) is carefully looking through the Box Day smorgasbord of Core A curriculum. Her younger sister Carter (3) will use the Preschool program in their first year of homeschooling.
—
Nicolette K,
Redlands , CA
My little girl loves learning with Sonlight. She looks forward to it each day, and is never ready for it to be over. I love how this first year of school has been so enjoyable for her, and has started her off on a path to love learning. Whenever people ask me about homeschooling, I almost always receive a response that goes something like 'it would be way too complicated for me, how do you do it!?' I would probably feel the same way if it wasn't for Sonlight. I often find myself talking about how wonderfully easy and enjoyable Sonlight has made homeschooling. Zoe (5) and Mom sit among grazing horses as they read a book from the Pre-Kindergarten Full-Grade Package with Grade K Readers/LA.
Before starting Sonlight, we completed a different curriculum for kindergarten and our homeschool year was full of tears and frustration. Quitting homeschooling did cross my mind many times, but then we found Sonlight. It is such a complete, beautiful, enjoyable curriculum. I don't have to worry about what I am going to teach next because it's all right there in the Instructor's Guide, already planned out for me. The books in the Cores are so full of emotion that they have touched our souls. Now I just sit down and cherish every moment with my children. In their first year of Sonlight, Bella (7, Core A) and Seth (5, Pre-Kindergarten Full-Grade Package) enjoy a Sonlight Reader, Put Me in the Zoo, together.
—
Taidee G,
Leesville , LA
As a busy mom of three, I adore the Full-Grade Packages and the Instructor Guides/lesson plans. I appreciate all the work Sonlight has put into these because it makes it so easy to teach for a full year and have everything I need in one place. Sonlight has truly helped us build a strong family bond. I have seen my two boys learning and growing together. We love Sonlight and recommend it to anyone looking for homeschooling materials! Jarrett (7, 1st Grade Full-Grade Package) and Micah (4, Pre-Kindergarten Full-Grade Package) are caring siblings. In their third year of homeschooling, the boys love to do their lessons at the beach.
Thank you Sonlight for helping a nervous mom succeed at homeschooling. I honestly wouldn't be able to do it by myself without the amazing laid-out plans and the awesome books choices. My children have developed such close relationships with each other since we started using Sonlight. They have become amazing readers who love to read and listen to stories. I cherish our Sonlight homeschooling time together and couldn't imagine it any other way! When Nichol started to read to Parker (3) by the lily pond, Jack (6), Grace (9) and Braden (2) all joined in to listen. They are using the Pre-Kindergarten Full-Grade Package and Core B+C in their second year of Sonlight.
—
Nichol M,
Warrenton, VA
By purchasing the entire year curriculum I rest in the completed hard work that Sonlight has done. When a friend introduced me to Sonlight, the first words my eyes landed on were 'The way you wish you had been taught.' I had a very difficult time in school, so these words were music to my soul. Four years later, my husband proudly declares I am the best teacher that my children could ever have. Sonlight has consistently offered sturdy, time trusted, valuable treasures to build our minds on. It is as if I have gotten a second chance at schooling and I am loving every minute of it! In their fourth year with Sonlight, Isabella (9) lays out her books from the 3rd Grade Full-Grade program.
—
Allison S,
Wichita , KS
What a blessing my Instructor's Guide is. I have complete confidence that I'm teaching what needs to be taught throughout the year. When people have asked me about homeschooling and how I know my children are learning what they need to, I've whipped out my IG and they've been blown away. Most comment that with a tool like that, they'd be able to homeschool too! Thanks to the confidence I get using an established program like Sonlight, my boys are thriving and my husband and I couldn't be happier! In their first year of homeschooling using the 4th Grade Full-Grade program, Brooks (2), Jase (7), and Carter (9) climb a tree with Dad to read a short story.
—
Rachelle H,
Wakarusa , IN
We have used textbooks and workbooks these past five years of homeschooling and always felt school could be so much more for us. We are only finishing up our fourth week with Sonlight, but this has been a wonderful game changer for our homeschool. I asked my daughter what she likes best about Sonlight so far and she said Sonlight has given her a different way of looking at things, challenged her more – in a good way – and also that it was much more interesting than our old curriculum. For the first time in our schooling we look forward to it. EVERY DAY. Thank you for the joy that has been added back into our school day. In this photo, Tessa (10) practices Chinese calligraphy from the 5th Grade Full-Grade Package.
—
Emily J,
Gainesville , MO
A wonderful thing about Sonlight is that we can reuse each program [with our younger children] as they progress through the years. Our oldest daughter began last year with Kindergarten and we absolutely loved it, especially the Bible verses and stories. Our second daughter was off to a great start using the bright and engaging preschool program. This year, we decided to add in our youngest daughter. They all love and enjoy school. In their family's second year of Sonlight, Evelyn (2, Preschool Full-Grade Package), Kathryn (6, Core B) and Alayna (4, Pre-Kindergarten Full-Grade Package) enjoy their science lesson out in nature.
The beautiful books, all-encompassing Instructor's Guide, and Sonlight's Love to Learn Guarantee convinced me to give Sonlight a chance. Boy did we choose a winner! All of our children ages 5, 4 and 2 love to listen to the Read-Alouds, pore over the pictures in the Core books and CANNOT wait for 'Experiment Day.' Being pregnant with our fourth baby, I was relieved to open the Instructor's Guide each morning and begin our day knowing I already had everything I needed for a successful day of loving to learn! Here, Jonas (4), Joshua (5), and Jenna (2) watch with rapt attention day after day as the caterpillars transform into butterflies. They are using Core A and Science A in their first year of homeschooling.
—
Tracy D,
Jonesboro , AR
I love the variety of books that Sonlight chooses. The time we spend reading them together is priceless. They return to their favorites over and over again. It warms my heart to see my children growing up and growing closer to one another. I am so thankful to have come across such an amazing curriculum so early in our homeschooling. In their second year of homeschooling, Hannah (5) and Ethan (4) share the Pre-Kindergarten Full-Grade Package. Pictured here, they return to one of their favorite books from the Preschool Full-Grade Package, The 20th Century Children's Book Treasury.
Sonlight has opened up a whole new world for us. This year, we invested in the Pre-Kindergarten Full-Grade Package and are having so much fun! My children prefer reading a book over watching a television program any day and I know it is because of the new worlds they have discovered through Sonlight! In their second year of homeschooling, Daniel (2), Josiah (4), Grace (9 months) and Mom enjoy The Berenstain Bears' Big Book of Science and Nature while visiting Grandma and Grandpa.
—
Julie Q,
Pickerington , OH
The Sonlight books and Instructor's Guides add a lot of variety to the homeschool experience, even from an early age. Maija has been steadily gaining in her confidence and ability to read with the Fun Tales series provided in Language Arts K. That week we had also been reading through the broad range of poems included in one of the sections of Language and Thinking for Young Children. I am thrilled to see Maija thriving on this feast of learning! In her second year of Sonilght, Maija (5) is using the Pre-Kindergarten Full-Grade Package with Grade K Readers and Language Arts K. The activities and materials in her Language Arts program inspired her to create her own picture dictionary, shown here.
—
Jonathan S,
United Kingdom
Sonlight books so easily become real life lessons without me ever planning it. We recently visited a game farm in the Karoo and while I was busy teaching Simon (5) about different people, several of the children from the farm joined our Read-Aloud time. Our book suddenly came to life as we were surrounded with Zulu, Xhosa and Khoi San friends. In this photo, Ester, Simon (5, Pre-Kindergarten Full-Grade Package), Nell (9 months) and friends crowd round for a Read-Aloud.
Sonlight has helped a new homeschooling mom feel like I can do this. [Sonlight has] provided all of the curriculum I need to provide my child a love of learning and quality education. They have simply the best books to learn from. We love this way of learning; it's fun and meaningful. We had to open the box as soon as it came and dig right in. Adeline was so excited and looked over all the books. Just like Sonlight says, she is learning the way I wish I had been taught. In their second year with Sonlight, Adeline (4, Pre-Kindergarten Full-Grade Package) shows her excitement for her new books on Box Day!
As a first year homeschool mom I was looking for a curriculum that walked me step by step through each day. There are many reasons my husband and I feel called to homeschool our children, including our desire to spend more time with them, provide them with a quality Christian education, and meet my son's medical needs while still giving him a first rate education. Sonlight's great literature-based curriculum and well-laid-out plans have given me the courage to begin this journey. As a close-knit extended family, Megan's children love to learn together with their cousins from the S family. In this picture, Audriana S (6, Core D), Clayton S (5, Pre-Kindergarten Full-Grade Package) and their mom Ryann, together with Haylee W (5, Core A) and Keaton W (6, Core A) learn in a local park.
—
Megan W,
Bourbonnais , IL
One of my main concerns when we started homeschooling was teaching my children to read. But with Sonlight's Instructor's Guides it has been a stress-free process. Chloe (6) loves the I Can Read It books and the 'Sight Word Bingo.' She often begs to read just one more story to me, or to anyone else who is around. She took her reading books to her grandparents' home and they were very surprised at how well she can read, especially for her age! Sonlight has made our homeschool journey such a joy and blessing for me and my children. In their second year homeschooling, Sara (8) and Chloe (6) share Core A and enjoy reading their Sonlight books together.
—
Stephanie A,
New Market, AL
My husband and I researched home schooling options for quite some time and then decided to choose Sonlight. [We chose Sonlight] because of the complete curriculum option and the amount of books and kits that were shown for the year. It has been an amazing experience for Jasmine and me to share in this learning. She has gained so much insight into the world and has had educational experiences with such a wide variety of information. Sonlight has truly given Jasmine a new love of learning. In their second year with Sonlight, Mom and Jasmine (6) use the Kindergarten Full-Grade Package to study weather around the world.
—
Heidi G,
North Dartmouth , MA
I was really nervous when God called me to homeschool my children. But as soon as I saw Sonlight's Instructor's Guide, I knew that I was going to be able to teach them confidently. The Instructor's Guide does all of the lesson planning for me. At the same time it leaves room for me to add in my own activities and personalize it for my kids. It's a perfect fit! Sonlight has allowed me to provide a solid, Christian education for my kids without stressing myself out trying to create lesson plans. In this photo, Micah (6) and Lizzie (4) enjoy listening to Mom read a Core A favorite. Now in their second year with Sonlight, they are using Core B with Grade 1 Readers, Science B and Singapore Math 1.
When we pulled our child with ADHD out of public school, we made the very best decision for him. My highly active boy is loving homeschooling and has grown so much in the past five months. Impressively, he sits quietly and attentively as mom or dad reads a Sonlight Read-Aloud. It is truly amazing what Sonlight has already done for our schooling and our family! It is Bible-based, rich in history, full of exciting Read-Alouds, and family-oriented. Best of all, dad is excited to teach! Here, Graham (7) and Dad enjoy a Core B Read-Aloud, Charlotte's Web, together.
—
Joy H,
Lehigh Acres , FL
We have not regretted investing financially in Sonlight curriculum. We have a growing library of superb books, four avid readers and two little ones already developing a love of learning through reading with Sonlight. We especially value the Biblical worldview and mission focus woven throughout the curriculum. It is assisting us in teaching our children to appreciate, understand and love people of every creed and culture. While getting ready for church one Sunday morning, Mom and Dad captured this special moment – their six children crowded together enjoying a Sonlight book. In their sixth year homeschooling, Caleb (11) and Benjamin (9) share Core F, Mikaela (7) and Elisha (6) share Core B, while Joash (2) and Shekinah (6 months) love to listen in.
Sonlight's choice of literature makes homeschooling easy and interesting to children and adults, while naturally promoting quality family time. We love the quality of the Sonlight literature and history selections. The books are wholesome, so real, age appropriate, and well written. I love how everything fits together with the history we're studying, and it's all done for me! The style of the program works well for our family because it is rigorous and the program content leads us into a good deal of great conversation, as well as quality time together. In this photo, Parker (8) can't stop reading a book from Core C.
—
Jacqueline B,
Mount Pleasant , IA
Sonlight has allowed our three children to all participate and learn in an interactive, cooperative and fun-filled environment. A Child's History of the World and The Usborne Book of World History [from Core B] were fantastic launching pads into exploring Ancient Rome. My kids were enthralled with this truly remarkable time period, and it was a joy to watch them make connections between the biblical history and Roman times and its people. Caelan (6) was so inspired this year with Core B that he wanted to recreate some Roman armor. This is his second year using Sonlight.
We are so pleased with how we can incorporate all our children together in the learning experience. Our oldest daughter, Anna Maria, loves reading aloud to her siblings. The bond between them continues to grow as they share their thoughts on different topics and learn together despite the age differences. We began our homeschool journey while traveling this year. Sonlight's curriculum gives us the flexibility to learn outside of a traditional classroom. In their first year of Sonlight, Anna Maria (13, Core F), Alex (11, Core F), and Isabella (7, Core B+C) stop to read The Awesome Book of Bible Facts from Core B+C among one of God's beautiful landscapes.
—
Maria J,
Winter Garden , FL
I love that Sonlight allows school work to be such a family affair. Before switching to Sonlight, my wife was putting together her own curriculum. As the family grew, this job became more and more overwhelming, and choosing books was one of her biggest struggles. We love that with Sonlight, we have a wealth of high-quality literature at our fingertips. The kids read to their mom, she reads to them, they read to each other, and even I get involved. It does our hearts good to hear them beg for 'just one more chapter!' In their third year of Sonlight, Bethany (7, Core B+C) and Ellie (8 Core B+C) listen to big sister Maggie (12, Core W) read a favorite.
Sonlight has created avid readers who can't wait to get their hands on new stories. Box day is an exciting time at our house! The entire family crowds around to hear Dad announce each book title. Then we let each child sit with his or her materials and explore a bit. As parents, it gives us the chance to observe what will most likely pique each child's interest for the year. Abigail (7) loves the gripping stories, which encourage her to dive into reading. Thanks Sonlight! In their third year of Sonlight, Abigail explores her Core B+C treasures on Box Day.
As parents we are happy to present our daughter with so many good books from a company we have come to trust. We often have in-depth conversations about the world around us, following or during our reading. Sonlight gives us the tools to open up the world for our children in the safe context of our home. This is especially important as we are preparing to be missionaries in Africa next year. Sonlight's focus on the whole of history helps us to understand our place in history and the world around us. In this picture, Vanya (9, Core B+C) displays her favorite book next to the many others she has read this year.
What drew us to Sonlight most was the focus on missions. We enjoy adventuring alongside missionaries on the pages of the books we read. Our hearts have been captivated and inspired. Our children's faith has been challenged and strengthened as we have the privilege to pray for a different people group each week. The option to combine subjects has helped deepen sibling relationships in our family. What a blessing to see the beautiful friendships between brothers and sisters blossom. The family is using Core 100, Core F and Core C with their five children in their second year of Sonlight. Here, Anna (13), James (8), Claire (6), and Katie (4) find the countries they have read about in Window on the World from Core C.
—
Elizabeth F,
Port Washington , WI
With Sonlight, I have never doubted that my kids are getting an incredible education. Other homeschool parents in the area talk every year about the would-of's, could-of's and should-of's. For me, it's so easy to talk about how Sonlight has made our homeschooling life easier, with great literature, fun books, daring characters and easy instructions. My kids are excited about history. They are free to focus on learning, connecting and absorbing everything in God's world, instead of worrying about grades or other things in the public school. In their fifth year homeschooling, Lucas (7, Core C), Lucy (6, Core C) and Laurelin (4, Core A) often bring Core C characters to life through play. In this photo, the book Captain Nobody inspired them to become superheros.
—
"amy Gail" J,
Madison , WI
I am confident in the thorough education my children are receiving. I trust Sonlight's book choices, I depend upon the scheduling pages, and I am greatly pleased with the challenging Language Arts program. Over the years, I have been attracted to other curriculums as other moms have shared their experiences with me. But no matter how much I look into other options, we always come back to Sonlight. Sonlight challenges my children to do things they didn't know they could do. The moments of 'aha!' when my children are learning are priceless. I am thrilled that I get to see those moments. In their eighth year with Sonlight, Ronnie (7, Core C) and Abigail (6, Core C) use a Sonlight Reader, Greg's Microscope, to guide them through using the Sonlight Ultra Microscope.
It was such a rewarding experience to witness Jared 'learning to read' through Core A and now 'reading to learn' through Core C. We particularly appreciate the multi-layer learning opportunities Sonlight Readers and Read-Alouds provide. When we read a Reader together, not only is Jared getting better at the mechanics of reading in general, he's also learning the way of life of a particular time period. The best part is when we pull the story apart and discuss the observations we each make. That often means asking questions that challenge our beliefs. Here, Gemma (4) and Jared (8) listen as Mom reads Strawberry Girl from Core C while traveling through Japan.
I've been homeschooling for 11 years now and have pretty much tried every curriculum out there. Using Sonlight has changed how I view school. I realize it's not just sitting behind a desk for a set amount of hours in a day; it's a lifestyle. I'm not that stressed out mom anymore nagging my kids to hurry up and finish their school. Sonlight's lesson plans are fantastic and there is such a wonderful variety of books. After finding the girls (Eden, 6, Caylee, 7, Evie, 11, and Cassidy, 13) in the field with a bag of Sonlight books, Mom quickly snapped a photo. They are using Cores B, C, D and W in their third year of Sonlight.
I love to read and so do my children. So when I saw the list of award-winning literature we would be reading, I knew Sonlight was for us. We are going into our third year with Sonlight and for the last two years when it came time to choose a curriculum I thought maybe we would try something new – just to see what else was out there, but I couldn't do it! I realized that Sonlight was the right fit for our family, so why change a good thing. In this photo, Caleb (8) and Lillian (4) enjoy a Reader, Om-kas-toe, from Core D together.
Sonlight is the BEST way to homeschool. Sonlight has given all of my children a love of books and the gift of knowledge. It has enabled us to create a strong family bond through reading and studying together. Thanks for making learning fun for my children. In their sixth year of Sonlight, Luke (11) and Lindsay (8) read outside with their dog Cole. They are currently using Core D.
—
Shannon G,
Magalia , CA
Homeschooling has been a blessing to our family, but homeschooling with Sonlight has made it pure joy. The other day, some neighbor friends were bemoaning the end of summer and the inevitable start of school. 'I love school,' my 8-year-old piped in. 'I love Read-Alouds and Science and ... well, it's all so fun.' This made me smile because I know my son's disposition and inability to 'sit still and be quiet' would not fare well in traditional school. The well-chosen books from Sonlight have made learning a real adventure for us all. They have captured my children's attention and made them masters of their own education. In their third year of homeschooling, Elijah (10) and Noah (8) visit a museum of Shoshone history and read a history book, North American Indians, from Core D.
—
Tawnya L,
Grand Prairie , TX
Sonlight has changed the way I think about homeschooling. It has even changed the way my kids feel about school. Katelyn (10) hated public school and still strongly dislikes anything with any remote resemblance to school. But this was our first year using Sonlight. Katelyn loves it! We loved reading together – wow, what a way to learn history! I remember memorizing facts and dates that I don't even remember today. My kids are learning the stories behind the facts and dates in such a pleasant way that they will remember them for many years. Here, Katelyn (Core D+E) enjoys Justin Morgan Had a Horse with her own horse.
Sonlight made it easy for first-time homeschoolers like us with Instructor's Guides that have daily lesson plans for the entire school year and discussion questions for each book on our reading list. When we jumped into homeschooling a year ago, we were a bit overwhelmed by all the curriculum choices. But we were very impressed by Sonlight. We were able to purchase one Core to study American History with both our 6th grader and 4th grader using Core D+E. It's been a totally new way for us to look at educating our kids and keeping Christ in the center of it all. Pictured here, Mom reads to Christopher (10), Madison (12) and Dallas (6). This year the older two will use Core F while Dallas starts on Sonlight's first grade curriculum.
—
Maronda D,
Louisville , KY
We have tried other programs, but we keep coming back to Sonlight because of the fabulous book selection and thoughtful discussion questions. I also LOVE that everything is all planned and in one place. Never have we read a book we wouldn't recommended to friends. Reading aloud together is like traveling the world and sharing adventures while in the comfort of our living room or in the car on a road trip to Grammy's house. The B family started homeschooling with Sonlight in 2009. They have just finished Core C and will start Core D+E next year. In this photo, Isabella (11), Noah (9), Kai (5), Judah (2) huddle close to Mom to hear Tales of Robin Hood.
—
Emily B,
Sacramento , CA
Homeschooling with Sonlight this year has given our family the academic foundation and flexibility to make history come alive for our children. After studying the Ancients with our children last year through Sonlight, we took an extended trip to Greece and experienced many of the birthplaces of Ancient Greece, from the Minoans and Mycenaeans through the Golden Age of Greece. Instead of seeing history as a dry series of names and dates, Sonlight taught our children the story of history and kindled within them a fire for learning and experiencing history. In this photo, the P family, including Lauren (9, Core D+E), Joshua (7, Core D+E) and Naomi (3, Pre-Kindergarten Full-Grade Package), admire the Parthenon in Athens, Greece.
—
Christine P,
Chicago, IL
'Mom, that's just like us!' That was my son Simeon's response as I read to them In Search of the Source, a missionary's story about living overseas. My kids have learned to stay on task even when our neighbors come for a visit. The children and adults alike love looking at the pictures and hearing the stories that we translate to them. I have been encouraged as a mother by the not only Christ-focused but also globally-focused choices of books that Sonlight offers. In their fourth year with Sonlight, Simeon (10) and Gloria (8) share Core E and Science E. In this photo, their neighbor, Tala, joins in to hear The Winged Watchman, a Core E Read-Aloud.
—
James G,
Pflugerville , TX
Homeschooling allows us to go adventuring any time there is an opportunity and to make the most of our time in this beautiful country. Moving every three years with the Navy is always hectic. This move took us across the Pacific Ocean to Japan. But we kept our daily routine of having 'school time' and both of my girls were able to complete their school years on time. It was nice to have that time each day of quiet work together, a reminder that life wouldn't always be so crazy. In their sixth year with Sonlight, Mom, Dad, Isadara (9, Core E), and Eisley (7, Core C) enjoy exploring a new country.
—
Leandra K,
United States
Sonlight books are such a wise investment, not only does Asher re-read his favorites but his younger siblings will read them also. Sonlight gives him freedom while getting an amazing education. I love that he isn't stuck inside at a desk all day. Reading excellent literature to him helps our relationship grow stronger every day. Sonlight gives our son a connection with history and helps him develop empathy for others. As he prepares to start Core F for his fourth year of Sonlight, Asher (9) re-reads an old favorite.
We love Sonlight because it helps history come alive. The subject I was dreading to teach in the beginning [History] is now one we can't wait to get to each day! Homeschooling with Sonlight also gives us the freedom to explore the subjects we study and take great field trips. Sonlight has made my job so easy and has made her educational experience so rich! In their fourth year homeschooling, Riley (7, Core E) reads about President Lincoln's part in the American Civil War while visiting Wilson's Creek Battlefield.
—
Lindsay P,
Newalla , OK
I love the engaging activities in the 'Choose Your Adventure' section of the Eastern Hemisphere Notebook in Core F. The suggested activities accompanying the study of each country really allow you to experience a new culture in your own home. My son is developing a curiosity about the world which I hope will continue into adulthood. Colton (11, Core F) creates a water xylophone as part of the "Choose Your Adventure" during his study of China. Johnathan (5) stands intruiged by his big brother's work. Next year, Jonathan will start Core A.
Although we were initially concerned about how our technology-driven tween would respond to Sonlight, our reservations were quickly put to rest. Not only has his writing improved, but his love for reading has been rekindled. Sonlight's quality is outstanding. The effort to find high quality literature that is both educational and entertaining shines through. The outstanding books included in the Sonlight Cores have sparked fantastic family discussions on life lessons, character, and history. Here, Jackson (12) enjoys a great book outdoors. In their second year with Sonlight, Jackson has finished Core F and is excited to start Core G.
As we opened our Sonlight box for the new school year, Emily exclaimed 'It's like Christmas!' Our oldest daughters, who are now graduated and attending college, used Sonlight for their high school years. They were well prepared for college testing and placement. They had been in public school and really lost the love of learning. Sonlight brought that spark back to them. I saw the light return to their eyes. When I saw Emily so excited about her curriculum and this school year, I realized God has spared her that dullness about learning. We are so thankful for Sonlight! In this photo, Emily (11) celebrates her Core F Box Day.
I woke up from a nap with my newborn and found Jayda, 10, happily writing a new story in her free time because she just loves Sonlight Language Arts so much. I'm so thankful for the great books that Sonlight chooses for each year; the children love them. And the Instructor's Guides are like a survival guide for us busy Mums! They allow me to cope with homeschooling while raising my three children and church planting in London, England! In their sixth year of homeschooling, Jayda (10) works on a Creative Expression assignment from Language Arts F.
—
Shalyn F,
United Kingdom
I highly recommend Sonlight to new homeschooling families as it helps you stay on task, but enjoy the process of learning. Our library is huge, and it's fun to see the kids going back to reread older Core books on the shelves. My son loves history and I credit Sonlight for that interest. He's always up for a visit to some place historical! Eleven-year-old Andrew's love for history shines through as he and Mom take a field trip to see a ship from WWII. Andrew is studying Core G in his sixth year of Sonlight.
What a wonderful experience it is to have kids that love reading and learning so much. Sonlight keeps our kids motivated and looking forward to school year after year! This picture shows the reaction to Box Day at our house! This is a FULL DAY event at our house. The kids get so excited they can hardly keep themselves from reading each book before placing it on the shelf! Here, Hannah (11, Core G), Noah (9, Core E), Micah (7, Core C), and Rachel (5, Core C) leap for joy on Box Day!
Sonlight is the best decision and most worthwhile investment we've made for our daughters' education. We have enjoyed building our home library each year and now as we begin our seventh year of home schooling with Sonlight we have a wonderful selection of great books. It's very helpful to know that the books have been previewed and while not over protective or 'squeaky clean' they are going to be enjoyable, quality and appropriate. Thank you Sonlight for providing a top rate homeschool program! This year Autum (11) and Bailey (9) share Core G, with special tweaks to make it work for Bailey's level. The girls are often found curled up on the couch re-reading books from past Cores.
—
Robin P,
Kerrville , TX
I KNOW I am giving my kids the best [education] I can possibly give. In our oldest daughter's first grade year, we did not use Sonlight. I was so disappointed with that year. She was bored and really disliked school. Then, Sonlight to the rescue! Our kids' favorite time of the day is when I am reading to them. Thank you Sonlight! Your work is such a blessing to our family. In this photo, Brynn (12, Core G), Mary (5, Core B), and Keith Jr. (9, Core G) find a fun place (the closet) to do school work together.
—
Gwen G,
Charles Town , WV
You'd think my daughter was being tortured when I finally put away next year's Sonlight books until the next school year. The poor dear. We generally order our new core in March, with our tax return. So we're only about half way through our current Core when the new one arrives. Despite that fact my oldest daughter, Mackenzie, wants to start reading the new books immediately. Here she is on our first day of the 2014/2015 school year, finally able to dig into those long awaited Core H books. Such joy! In her ninth year of Sonlight, Mackenzie (13) happily reads with one of her guinea pigs.
—
Stefanie S,
Chesapeake , VA
We used Sonlight when they were young, then tried sending them to 'real' school. Ha! They wanted to come back to homeschool and, of course, to Sonlight. Jack attended public school from fifth through eighth grade. He told me in eighth grade he had just started learning concepts he hadn't already been taught when we did homeschool. We are happily back on track learning in ways that allow them to use their imaginations, saturate them in great literature and afford them the opportunity to venture outside the classroom walls. Thank you Sonlight for providing such excellence in education! In this photo, Meredith (9, Core C), Riley (13, Core W) and Jack (15, Core 100) enjoy the freedom to learn anywhere.
Taking away a lot of the planning and allowing me to really focus on my children's growth is a reward worth enjoying. Being a military family with five children and one with special needs, our family values the Word of God. Quiet time is an important part of our homeschool style as it is the best way to start our day. Since we have to adapt to new environments and changes frequently, we have found Sonlight to be the best fit. In their second year with Sonlight, Haley (12, Core W) assists Gabriel (6, Core C) in finding answers to his questions.
—
Heather W,
Clarksville , TN
Sonlight has allowed us to learn together from kindergarten through high school. Sonlight provides curriculum that builds our love of books and our love of learning. We are able to have interesting discussions, share inside jokes, and banter with quotes from our favorite books. In her end-of-the-year photo last year, Katelyn (17) posed next to her stacks of Core 100, Biology, and Algebra 2 books. Now in her tenth year of Sonlight, she is using Core 400 and British Literature for her senior year.
—
Karen A,
Hendersonville , TN
This is our first year using Sonlight. We're loving it and can't believe we get to call this special time together 'school. We'd been using an online curriculum and were ready for a change. We all love to read and felt that Sonlight would be a great fit for our family. Charlotte's Web is one of Sarah's childhood favorites, so she was excited to see it's part of Abby's curriculum. Even though we hadn't officially started our school year, we couldn't wait and started reading it together on our Maine vacation. It warms my heart to see my children not just reading, but reading aloud to each other. Here, Sarah (15, Core 100), Abby (8, Core B), Mom and "Bacon" enjoy the teen's favorite.
—
Sennu K,
Saint Petersburg , FL
"When we started Sonlight way back at the K-5 level, we had no idea that high school would be this much fun," writes Jennifer W of Richardson, TX. "Due to its richly satisfying array of choices, we have never felt the need to stray from the Sonlight program. Now that the kids are older, the discussion questions in the Instructor's Guides have become an invaluable tool. The thought-provoking questions have led to dinner discussions lasting long past the time it takes to actually consume the food. We are so glad Vashti (15, Core 200) and Lukas (14, Core 200) are learning to discuss ideas that may be opposed to their own viewpoints." In this photo from last year, the W family discusses A History of US from Core 100. They have used Sonlight for nine years.
—
Jennifer W,
Richardson , TX
Sonlight is valuable in so many ways. It frees me to spend more time working with each child instead of laboring over planning (which I've done!). I so love the books that come with Sonlight Cores. We are avid readers in this home so that makes Sonlight a perfect fit for us. We are also huge history buffs so again, Sonlight is perfect! I have found the books really help history become more real to my kids. They remember so much more than with textbooks. Finding experiences to complement the books makes history that much more meaningful. While studying American History in Core 100 and Core D last year, the S family headed over to the local Native American History Museum. Tollie (14) shows an arrowhead she found.
—
Shelley S,
Bentonville , AR
Even though I was a Social Studies Education major, I have learned and retained more knowledge about US history through reading Sonlight books with my girls than I ever did in college. As missionaries to Peru, we have learned to love and appreciate different cultures. We're so thankful that Sonlight curriculum does the same. Using Sonlight wasn't a hard decision for us. We love books, learning about other cultures, and the freedom to have school anytime and anywhere. In this photo, Marissa (13, Core 100) and Alena (8, Core D) pose in traditional Peruvian clothing.
—
Becky C,
South Dayton , NY
Sonlight has been our faithful friend for the past 13 years or so. The library we've built is just precious. Robbie would read his books over and over and it's so fun hearing him chuckling about some things in the book. We love Sonlight! It fits our worldview perfectly. In this photo, Robbie (17) reads a Sonlight book while recovering from an emergency appendix surgery. He is studying 230 Classic Literature in his thirteenth year with Sonlight.
—
Jenny R,
Mooresville , NC
As Christian parents we wanted our daughter to have the best education possible without the added pressures of public school. At first I was scared to think I could undertake such a task and not mess up our child. Little did I know how easy Sonlight would make it to succeed! We know just where our daughter is education-wise at all times and don't need a report card to fill us in. We have so much support through Sonlight and through other local families who are like-minded. Sonlight affords me the opportunity to spend time with our daughter while she grows and learns. In this photo, Dad and Savanna (10) work on science in the 5th Grade Full-Grade Package.
—
Leslie S,
Saint Louis , MO
To our family, Sonlight means that the work of searching out quality literature for comprehensive learning has been deftly handled. We are free to simply enjoy and learn. We LOVE to talk as a family about the books that each of the children is reading. The change that we have seen in our five child family is that the ones who couldn't find any books that they like, LOVE Sonlight's selections! We couldn't be happier that we have used several Cores over the years and plan to continue to do so. The time we spend reading our Sonlight books have comprised some of our best memories of homeschooling. In this photo, Sloan (14) is engrossed in the book Till We Have Faces by C. S. Lewis from Core 200.
—
Elizabeth C,
Goshen , IN
I never imagined homeschooling any of our children, much less into high school. With five children and a large age gap between them all (ages 2-18), Sonlight has helped forge such a wonderful bonding relationship the children might never have had if we'd sent them all away to school. I love that even the littlest ones curl up with our teenagers to hear a good book or hunt down a new critter for microscope viewing. In this photo, Duncan (18, Core 200) and Ian (7, Core B) examine a specimen under the Sonlight Ultra Microscope.
—
Heidi Y,
San Antonio , TX
For years my son and daughter were captivated by the rich and vibrant books of Sonlight's Elementary/Jr High curriculum. But I am even more excited about Sonlight's curriculum for the High School years. Both of my teens voraciously read on their own and learn so much. In this picture you see a very outgoing teenager so engaged in reading that complete mayhem at the swim meet around her is ignored ... that is amazing! Her older brother, Troy, just took the SAT and excelled in both English categories. Thank you Sonlight for being the richest part of my children's education. In their seventh year of Sonlight, Tess (14) is studying Core 300 while older brother Troy (17) uses American Goverment/Civics 420 and British Literature 530.
—
Debra H,
Santa Ana , CA
Our 12-year-old has read more books this year than she did in eight years of public education, and she loves it. With one child (15) slowly giving up reading and another (12) never having an interest in reading we were skeptical, but Sonlight had a money back guarantee. Now, our 12-year-old's reading comprehension and love of reading increases by the minute. It keeps her interested in learning, focused on what's really happening around the world, and most important, keeps everything centered on God. The curriculum helps reinforce God's Word and put it into real life situations and circumstances the children can understand. In their first year of homeschooling, Ricky (15) is using Core 300 while Mia (12) studies Core F.
—
Nicholas M,
Clermont , FL
We're thankful for the great book choices Sonlight has made that have enriched our lives. We've used Sonlight for 12 years, and I've never let go of the habit of reading aloud to my kids – even after Sonlight stopped scheduling Read-Alouds. In addition to creating wonderful family times, active discussions, and great memories, my kids have an awesome vocabulary – and we've never studied vocabulary! In her tenth year of Sonlight, 15-year-old Anna is sharing part of Core 300 with her older brother Zach (17).
One of our favorite things about Sonlight is the way that excellent literature is used to teach children about life in different places and eras of history. En route to our staff conference in Germany, Noah, Grace and Hannah begin some of their reading for the new school year, focusing on the World War II era. It was a special treat for our children to be able to read from novels set during these turbulent times, about events that took place in Germany and surrounding lands as we traveled through. In this photo, Grace (13, Core 300), Hannah (5, Core A), Noah (15, Core 300) read about World War II at the Stuttgart Central train station.
We love the literature-based curriculum and our huge Sonlight library. We have been using Sonlight with our children Matthew and Melissa for 12 years. Matthew really enjoys the science programs. [In this photo] He is shown doing a Chemistry experiment from last year. Matthew (17) is using Core 400 in his twelfth year with Sonlight. His sister Melissa (14) is using Core H.
Debbie V.
Greeley, CO
I love how flexible Sonlight Curriculum is for my family. Melanie (13) and Zachary (10) are doing separate Core packages, but combining for Science. We learned about the parts of a flower in our Sonlight books and then used real flowers found in our garden to help pull it all together and get 'hands-on' learning. Sonlight allows you the freedom to do as much or as little as you want, based on your own family's needs. I love that my curriculum is all planned and organized for me, so that I can take the time to enjoy the learning process with my kids. Melanie (Core G) and Zachary (Core D) have used Sonlight since Kindergarten.
—
Susan B,
Dodgeville , WI
Homeschooling – and especially homeschooling with Sonlight – works. At Austin's choice, we used a combo of Core 300 and 400 for his senior year, working usually 6 days a week. He did awesome on his ACT and has his first year of college basically paid for. He is our second and last homeschooler to graduate Sonlight and we have loved every single year. I added up all the books Austin has read since ninth grade and it amounts to about 140 novels alone, not including his history spines. Wow. Sonlight has given my kids and me a heart for the REST of the story of history and a deep understanding that just doesn't happen with textbooks alone. On graduation day, Dad, Mom, and Austin (19) celebrate together.
Sonlight played a crucial role in preparing our son for college. I decided to use Sonlight for our high school son because I needed him to work independently for the most part while I worked with our younger children. The Sonlight Student Guides [included in the high school levels] held my son accountable for his daily work. I knew the books he was reading were all top notch choices and he was getting a solid Biblical education in American Government and Economics. He was recently accepted to his first choice college with a $20,000 scholarship! Sonlight is worth every penny and we will definitely use them again. Here, Brandon (18) reads Black Like Me from Core 400. He has his Student Guide nearby to guide his day.
—
Jennifer S,
South Casco, ME
Working on Eli's high school transcript and paperwork to apply to college highlights what an excellent education he received using Sonlight. With our positive experience with the other Cores we did not hesitate at all in ordering the new World History and Worldview Studies. The wide range of books Sonlight provides ensure students will encounter fascinating facts and fresh ideas to ponder. Motivated by his Sonlight-inspired love for reading, 16-year-old Eli started a library project, shown here, to help local families access a variety of books. Cory says the project demonstrates Sonlight's influence on her son to have a global perspective, be missions-minded, and focus on helping others. In his seventh year of Sonlight, Eli is capping off his experience with Core 500.
—
Cory T,
Fort Pierce , FL
Years and years of immersion in learning with Sonlight has prompted us to have a deep interest in world travel. This summer, I took my daughter to Italy for her 16th birthday, and we were able to savor some of the art and history that we've studied together for so long. And everywhere we went, we had those, 'You've read about this!' or 'I can't believe we're seeing the real thing' moments. Everything was richer because of the education I've been able to give my daughter, and I really am grateful for all those Sonlight books that have given her such a terrific foundation. Caroline (16) has used Sonlight for nine years. This coming year, she will be using Sonlight's College Prep courses.
With Sonlight's Parent and Student Guides, I feel confident in letting my oldest daughter work independently. With the detailed notes and answers to the study guide questions, I know from checking over her work that she understands the books she is reading. I enjoy Makinnley's journal notes on each book and the discussions we have about the authors she is studying. I am still able to take part in her education, but it is exciting to watch her become independent and take responsibility for her studies with Sonlight's help. Makinnley (17) has used Sonlight for 10 years. In this photo she enjoys A Tale of Two Cities from British Literature 530.
—
Elizabeth G,
Greer , SC
Samuel has become a powerful (young) man of prayer thanks to the tools provided by Sonlight. I have seen God working in both of my children since we started using Sonlight curriculum. Sonlight touches on some sensitive issues and in the beginning I was uncomfortable talking with my kids about these issues. But now I understand the responsibility God gave us as parents; teaching about the tough stuff at home cannot be matched elsewhere. Sonlight gives me the tools I need to have quality conversations with my kids. The results are pretty clear in this photo. Samuel (7) uses Core B with Grade 2 Readers/LA in his first year of homeschooling.
—
Stacy W,
Cannon Falls , MN
"It is amazing how much my kids love to read and re-read the Sonlight books, even years later," writes Tanya W of San Marcos, TX. "I love the balance between secular and biblical perspectives in the reading, which encourage me and my children to use critical thinking in what we are learning. My hope is that this will help them as they make their faith their own and not just their parents' faith." When getting ready to leave the house one day, Tanya captured this special moment: Caleb (12, Core 100) was reading to DavidJacob (2) while Jeremiah (10, Core E) and Elijah (7, Core E) gathered around.
—
Tanya W,
San Marcos , TX
We tried out the Language Arts program this year, and we love it. It has a good variety of reading material, loads of creative writing, and solid grammar foundation instructions. Abigail loves reading, so I looked for a curriculum that had plenty of reading material – and Sonlight fit that description perfectly. I'm thankful for Sonlight – you have made our homeschool days so enjoyable! Abigail (6) uses Lanuage Arts 2 in her first year of homeschooling. As an avid reader, she loves reading to little brother Arnan (4 months old).
—
Anthony T,
Richmond, CA
My 9-year-old, Nika, loves All About Spelling because it is self-paced and she can zoom ahead. Christian (7) just moves too much to sit still and write. His handwriting wasn't something he really cared about. With All About Spelling he can focus on the phonograms and leave the focused writing for Handwriting and Language Arts. In their fourth year of homeschooling, Christian and Nika share Core D+E. In this photo, Christian is so proud of himself for using the phonogram tiles to spell his own word.
"The Explode the Code books have been a hit this year with Madison. She loves the activities and I know she is getting a good foundation with phonics and language," writes Erin S of Mulberry, FL. "We have loved the books this year in the Pre-Kindergarten package, and my older daughter Alex has enjoyed listening to her sister's stories as she remembers some of them from when she went through it. Madison has loved reading Sonlight's Kindergarten readers as well and looks forward to them every week. She will get the same great start to literacy that her older sister has gotten from Sonlight." Here, Madison (5, Pre-Kindergarten Full-Grade Package with Grade K Readers/LA) shows how well she can read one of her Kindergaren Readers.
This year, the kids were so excited to get started with school I had to remind them to eat breakfast. The night before school starts I fill up each kid's backpack with new school supplies and some of their new Sonlight books. The kids are always so excited to open their backpack and dive into all of the fantastic new books. In this photo, Karalynn (7) writes in her MCP Phonics book that she uses with her Sonlight Language Arts program. In her fifth year of Sonlight, she is studying World History, Year 1 of 2 (Core B).
The look in our daughters' eyes is pure wonder and excitement – and that look is the very thing that has caused us to fall in love with homeschooling. This is our first year using Sonlight. Going into this year, I wanted to try homeschooling, but I wasn't confident and I wasn't sure that we would continue. The memories and the love of learning that we are developing through using Sonlight are wonderful. I owe a big thanks to Sonlight for giving me the confidence to try homeschooling! Here, Naomi (2), Aryonna (4), and Sylvia (4) show their exuberance for science as they complete an experiment. In their first year of homeschooling, the P family is using the Pre-Kindergarten Full-Grade Package with Grade K Readers and Language Arts K.
—
Brian P,
Overland Park , KS
As a busy homeschooling mom and full-time student myself, Sonlight frees up the time that I would spend on planning my children's curriculum for the year. We love the hands-on nature of Sonlight Science and how the activities get them to think like 'scientists.' We have also enjoyed Sonlight's literature-based focus and have had many hours reading and talking about the interesting books in the program. In this photo, Chelsea (6, 1st Grade Full-Grade Package) tries out the water wheel she made as part of the Science B program.
Sonlight has given my children a joy and curiosity about the world and the people around them. After studying about the life cycles of butterflies in Sonlight science, we mail ordered some larva. My then six-year-old daughter was so thrilled to watch each stage in the complete metamorphosis of the butterflies. Her face shows her captivation! I am so thankful to Sonlight for inspiring such a delight in learning and instilling in my children a love for all of God's creation! Elianna (7, Core C) has used Sonlight since she began school.
—
Johanna C,
Washougal , WA
We love that Sonlight includes hands-on experiments as well as providing a variety of science books to read. In this picture, Noah and Hannah are making a homemade scale to weigh their corn and bean seeds. They really enjoyed doing the experiments in the TOPS books. It was amazing to watch the plants grow from the seeds. They learned so much from these experiments. Sonlight has really given my kids a love for science. In their fifth year with Sonlight, Noah (11) and Hannah (9) share Core E and Science D.
I knew I did not want to tackle extensive lesson planning or preparation – this is why I chose Sonlight. My daughter had no idea of any of that though! She just knew Sonlight brought science to life and was fun. Madison (9) especially enjoyed all of the science videos and experiments that she could conduct! My daughter constantly found herself remembering things we had learned about throughout our daily routine. As I had an intimate knowledge of exactly what she learned from day to day, I was able to further expound upon a resonating idea in a way that really set the light bulbs aglow all over the place in her mind! In this picture, the B family enjoys one of the many great experiments from Sonlight Science C.
—
Laurel B,
Lewis Center , OH
We enjoy observing all manner of items with our new Sonlight Ultra Microscope. In this picture, it's nighttime, but on Box Day we couldn't help ourselves. We had to try it out, and by nightfall, Kris and her siblings were still observing things. Finally, I put it away for our 'real' school days, but with homeschool and Sonlight, the fire is lit causing us to be hungry to learn all year 'round. It's fun! We returned to Sonlight after choosing another path, and we are so glad we did. Here, Kristin (11) uses the Sonlight Ultra Microscope that goes along with Science E and the upper level Science programs. In her second year of homeschooling with Sonlight, Kristin studies Core D+E and Science E.
Our kids loved watching the Discover & Do science video about how electric circuits worked. Then to get to do the experiment themselves was really fun. I'm glad I chose Sonlight because I didn't have the stress of creating a teacher's plan for the subjects for the year. I could just focus on teaching and having fun with the kids as we learned together. Our kids love to do hands-on science experiments. It brings the concepts to life. In their second year of homeschooling, Ethan (8, Core D) and Claire (6, Core D) are delighted as they complete the circuit for a light bulb during Sonlight Science E.
—
Laura B,
Cape Coral , FL
We have always enjoyed the variety and hands-on opportunities with Sonlight science. Not one book or one topic all year long, but a few areas of focus and several books to keep us from getting bogged down or bored. My kids only know learning this way, and so they don't understand the drudgery of textbook/workbook schooling. They are always eager to do any experiments they see outlined in their books. TOPS Experiments are well laid out and pretty easy to follow. We had some good discussions and fun experiments in this unit. Here, Aaron (12, Core G) successfully grows crystals, just one of the many experiments in Science G.
Throughout the years we've enjoyed the different science labs that Sonlight has offered, from the hands-on and well-explained TOPS books to Apologia. Rachel's favorite part of science is the labs. She wants to be a marine biologist when she grows up, and I'm sure the interesting way in which science is presented helped to nurture her enthusiasm for science. We started using Sonlight back when my oldest daughter (now a college graduate) was in second grade. I'm glad I found Sonlight all those years ago. Here, Rachel (13) enjoys the "plastic rock" lab in Science 150.
—
Carol P,
Cave Creek , AZ
It's amazing what Sonlight has done for our family! Though each child is studying his own Core, none ever wants to miss a good story or an exciting lesson, intended for them or not! This is especially true whenever our Sonlight Ultra Microscope is in use! Apologia Biology is definitely more exciting with an up close look at God's creation. Who could resist? Even a five year old "princess" takes time out to have a look! "Love To Learn" ---they really do!
—
Courtney N,
Sanford , ME
We love the flexibility that homeschooling offers our family. Sonlight made it easy to choose our first year homeschooling curricula and offered wonderful assistance from their advisors [www.sonlight.com/advisors]. We've had a wonderful experience! Our Sonlight curricula travels with us on most warm days, enjoying God's natural world while we learn. Here, Alexa (7) experiences a change of scenery as she completes a math lesson. In their first year of homeschooling, Alexa uses Core B with Language Arts 1 and Horizons Math 1.
—
Theresa M,
Sheridan , WY
We chose Horizons Math this past year and it has been a great math curriculum for all three of my children. They love the brightly colored, illustrated workbook pages, and I love the spiral learning method! My children have grown so much in their understanding of mathematical concepts without becoming frustrated by rote memorization. In their first year of homeschooling, Majandra (7, Core B) learns how to carry when adding.
—
Violeta G,
Oakmont , PA
We have seen kids who do not look forward to the start of school, but we have never experienced that with Sonlight! Caroline (7, Core C) enjoys sitting on the porch to work on a Horizons Math worksheet during a beautiful spring day.
I am amazed at how much my children are learning at such a young age. One thing I love about our homeschool is that my 4- and 6-year-old can explain basic facts about the major world religions and compare them to Christianity. I think this is excellent for their age and will help prepare their hearts and minds! We live in East Asia and Sonlight has helped immensely with understanding the different world views, religions and cultures they encounter daily. As a bonus they are discovering a love for learning through stories and a love for reading. What a JOY! Here, Evie Joy (4, Core A) uses the manipulatives in the Saxon K Math program.
—
Katie R,
Chattanooga , TN
Sonlight has added a depth to our homeschool that made me regret not starting out with this wonderful curriculum. Before Sonlight it felt as though our homeschool was missing something. We were just going through the motions. Now, Sonlight books are so engaging we have older siblings listen in to younger sibling's books and younger siblings listen in to older sibling's books. Sonlight has been a blessing to us! In this picture, Evie (4, Preschool Full-Grade Package) listens to older brother William (8, Core B) read a Bible book from Core B. This is the K family's third year using Sonlight with their seven children.
—
Melanie K,
Summerville, SC
I have so much more time to read and learn and have fun with my kids because I'm not writing lesson plans or researching curriculum. This last year showed us what a wonderful program Sonlight is, because in many ways, it was a very hard year for us. Even when we were dealing with stress and grief, we were still able to read books together and learn because of the flexibility of Sonlight. I had so much to do that it was nice to be able to look at the Instructor's Guide and know exactly where we had left off. In this photo, Alex (4), Juli (7), and Danny (2) take their science lesson outside. They are using Core C in their third year with Sonlight.
—
Bethi F,
Bakersfield , CA
As a first time homeschooler and homeschool parent, our journey has been smooth sailing with Sonlight. I took a giant leap of faith and resigned from my position at work and my husband and I decided to use Sonlight curriculum to homeschool year round. We are so impressed with the curriculum and activities and Paxton loves to have school in every room of the house. I have seen him grow and mature in just the two short months we have been homeschooling. In their first year of homeschooling, Paxton (5) uses the Kindergarten Full-Grade program. He loves working on his Horizons Math K curriculum.
—
Kendra A,
Springfield , IL
Sonlight has been so much fun, it doesn't feel like work. When I was single, I taught at a Christian school overseas that used Sonlight for its curriculum. I was so impressed at how the Readers captured my students' imaginations and how excited they were to read. The elementary science curriculum fueled their enthusiasm for learning by allowing them to experiment and discover on their own. I knew that when I had kids, this was the homeschooling curriculum I would use. Pictured here, Gigi (3) plays with Mighty Mind that came with the Preschool Full-Grade Package in her first year of homeschooling. Mom is thrilled that Gigi is actively engaged while learning geometry and transformations in an unintimidating way.
—
Elizabeth F,
Akron , OH
Both of my boys are drawn toward the colorful pages in the Horizons Math workbooks. They also love to use all of the math manipulatives: counting cubes, Base 10 blocks, etc. Jack is glad that we found Sonlight when his older brother Luke was in Kindergarten so that he can have the benefits of Sonlight at the earlier stages of the Preschool and Pre-Kindergarten programs. We found some great books in those early cores. In their fifth year homeschooling, Jack (7) studies Core E and Science E with older brother Luke (10). For math, Jack loves his Horizons Math 1 program.
—
Sandy C,
California , MO
Our Sonlight studies have really nurtured a love of learning and reading. As the teacher, I love the ease of preparation Sonlight offers. We chose the Horizons math option. I love how it introduces a topic, offers practice on that topic, backs away from it and then brings it back in later lessons for reinforcement. The kids love to help each other with school. In this photo, Silas (7, Core B+C) takes a break from his Horizons math to check his sister Savannah's (4) math work.
—
Lindsey W,
Wilmington, NC
We love the way each Sonlight Core is created to span several ages and grades, so our boys can do their schoolwork together. Learning together through Cores A, B, and C has strengthened their bond as brothers. It's amazing to watch them learn so much while clearly enjoying every moment. Sonlight's flexible scheduling allows our children ample playtime each day, so they can just be children. The wonderful, imaginative stories we read together keep our boys engaged, feed their imaginations, and encourage creative play. Here, Albert (9) and George (11) fire up their imaginations with a favorite from Core C. They have homeschooled for four years and used Sonlight for the past three.
—
Susan S,
Richmond Hill , GA
This is our first year homeschooling, so choosing a curriculum was horrifying to me. This is my baby's education at stake – it had to be the perfect fit for our family. When I found Sonlight, I knew it was the right curriculum for us. The lesson plans are done and easy to follow, the kits have what we need for the school year, and best of all, my son loves it! He especially loves reading The Usborne Book of Knowledge during our Science lessons. Thank you Sonlight for making homeschooling possible for our family! In this photo, science lessons come to life as Lane (7) reads from Science C and watches giraffes at the zoo.
We have been homeschooling with Sonlight for the past five years and have enjoyed every part of it. I love that my children are learning without even knowing that they are learning. Sonlight chooses books that are so engaging that my children devour the books. I think I have enjoyed relearning everything as much as my children have enjoyed learning it for the first time! In this photo, Danielle (10, Core F) displays the natural flexibility of Sonlight as she takes her math practice outside.
A benefit of Sonlight over my previous curriculum is that all the supplies are available for me. I no longer need to run around the house and look for items prior to beginning the lessons. I wanted to use Sonlight last year but the cost was a deterrent. I went with a lower cost curriculum that I felt would be simple enough for me to teach. Once the burn-out stage hit I found myself being less than motivated to complete the program and if Adam didn't want to 'do school,' I didn't push him to. In the two months that we have used Sonlight I have a new excitement for teaching, and Adam is enjoying the learning process. Here, the United States Puzzle was barely out of the Sonlight box when Adam (5, P4/5 Full-Grade program) started to work on it.
Sonlight has made it so seamless for a large family to learn together. Sonlight has made it easy for my children of all ages to engage in school together. My older children often take over reading the Read-Alouds that they fondly remember from a few years ago to my younger children. I usually oblige when they ask to read them to their siblings, although I'm a little jealous because I love to reread them as well! In this photo, Nolan (7, Core C) and Emory (5, Core A) listen as Cooper (11, Core F) reads Strawberry Girl, a Read-Aloud from Core C.
"Sonlight does the best job of choosing interesting, educational and fun books," writes Nicole W of India. "The beginning preschool Cores are perfect for introducing children to a love for reading and for books. As a busy mom of four with one on the way, I am so thankful that the decisions are already made for me. I keep all of the previous Cores we have completed available on the bookshelves for the children to read again and again!" Here, Hannah Joy (10, Core E), Caleb (9, Core E), Micah (7, Core A), and Sarah Grace (5, Core A) dive into Sonlight boxes of summer readers. The children read all the books in one week!
We've used Sonlight for five years, and it's still a celebration every time the Sonlight box comes in the mail. It doesn't take them long to pull everything out and, inevitably, start begging, 'Can we start school today Mom?? Pretty please???!' In this photo, Halle (8) smiles surrounded by all of her Core C, Science C, and Grade 3 Readers/LA books. Halle finished a third of her Readers before the official school year even started.
—
Kelly S,
Mount Vernon , OH
"The options Sonlight affords us in tailoring our curriculum is priceless," writes Jolie H of Jackson, MS. "All four of my children have developed a deep love of reading (or of listening and looking, for my pre-readers) through the carefully selected books in the Sonlight programs." In their fifth year homeschooling, Silas (9) works on his Singapore Math, while Adair (7) enjoys Rosetta Stone's Spanish lessons. Silas studies Core E and Adair uses Core C.
Time is precious, and I love that we are able to say YES to the best books without having to sort through other good books to say no to. I love that I can open a book and start reading to the boys with confidence, even if I have not read the book before. Even if the subject matter is something we have not discussed before I know the books are chosen thoughtfully and purposefully. This means more time reading with our boys and less time for me as the teacher spent pre-reading to screen content. Here, Dad reads to the boys, Caleb (2), Micah (4), and Joby (3 months). In their third year homeschooling, Micah is using Core A as Caleb dives into the Preschool Full-Grade Package.
I love that we can enjoy multiple activities and still not be too stressed about homeschooling. Helena has picked up an interest in drama, and this past year she took a class with a local homeschool co-op. With rehearsals taking time I was glad we had chosen Sonlight, because it is both portable and flexible. Here, Helena (13) prepares to play Maud in The Music Man. She has used Sonlight for nine years and is currently using Core 100.
—
Jennifer G,
Taylorsville , KY
After an exciting Box Day, we were eager to get started. Each Read-Aloud gave us an opportunity to share an adventure. Every science experiment performed in the kitchen or backyard brought life skills that couldn't be learned anywhere else. We added electives like logic, typing, baking, and juggling. What a wonderful year we had – learning and experiencing so much – together! In his first year of homeschool, Jacob (13) was excited to start Core W, Teaching Textbooks Math 7, Apologia's Exploring Creation with General Science, and Typing Instructor Platinum.
—
Michelle N,
Northridge , CA
I love Sonlight and its easy-to-use Instructor's Guides for rookie homeschoolers like myself. I was encouraged by friends to try Sonlight for my first year since Sonlight's Instructor's Guide does all the work for you. It's true. My favorite part of using Sonlight is that my boys enjoy the variety of non-fiction, educational, and hilarious reads. As a mother and teacher, I have grown in leaps and bounds with confidence and the peace to do this another year. I can do this ... with Sonlight's help! In this photo, Ryan (7), Liam (7), and Aidan (9) celebrate their first Box Day. They are using the Grade 2 Full-Grade Package and Rosetta Stone.
—
Alaina B,
Lake View Terrace , CA
We began using Sonlight 14 years ago, and still love it. We are on our second round with our youngest child and look forward to all the great books and memories we will be making. I have tried putting together my own curriculum, but I just keep coming back to Sonlight. It is so easy to use and so rich in educational quality. Sonlight is the perfect fit for our family. In this photo, Sophia (6, Core A) enjoys making a colorful creation during Art time.
—
Pam T,
Lookout Mountain , GA
"The flexibility of homeschooling with Sonlight has helped us discover and develop our children's natural talents and abilities," writes Tanya S of Austin, TX. "Drawing while they listen to their stories not only helps keep their attention, but it also seems to increase their comprehension while honing their creativity and artistic skills. I'm so thankful Sonlight gives me freedom and encourages me to teach my kids according to their uniqueness, giftings and learning styles." In their third year with Sonlight, Naomi (7, Core C) and Keira (5, Core A) listen to Tanya read a Sonlight book while they draw their own versions of the main character.
It can be scary to be responsible for your child's education, but Sonlight makes it so much easier. The Instructor's Guide is a great tool and the book selection is amazing. The fact that Sonlight has done everything for you takes away a lot of fear of missing important elements. We love spending time together as a family, and we really enjoy the freedom homeschooling brings. This year my daughter is excited to learn Spanish and how to play the recorder. I am excited about all the stuff I will learn too! In their second year homeschooling, Eowyn (9) uses Core E.
—
Joshua S,
Hot Sulphur Springs , CO
I was reluctant about purchasing the Piano Wizard program due to its cost and my uncertainty that my children would learn and enjoy it. But now I am very thankful for its engaging way of teaching piano. Since there are almost no piano teachers in our small town, this program was a great purchase for our family. Isaiah enjoys playing piano with his Piano Wizard program. It's fun to see him get excited when he passes onto the next level in a song and it's fun for us to hear his songs. In this photo, Isaiah (7, Core C) concentrates while practicing.
The creativity that Sonlight inspires in my kids (and even our neighbors) is exactly what I was looking for in a curriculum. As a former public high school English teacher with a decade of experience, the freedom of spontaneity and creativity of Sonlight is invaluable. We chose Sonlight because of the heavy emphasis on reading, and we couldn't be happier. My boys are close enough in age that we're able to work through Core A with them both. Neither boy is bored or in over his head. I think it's safe to say that we'll be Sonlighters for a long, long time. In this photo, Joseph (5), Job (6), and a neighborhood friend reenact a jousting scene inspired after learning about medieval history in Core A.
—
Danielle M,
Fork Union , VA
"Sonlight gives us the freedom to educate our children in a manner that allows them to enjoy learning and discovering new things," writes Anne W of Zimbabwe. "History comes alive with Readers and Read-Alouds. Science, with the hands-on experiments, makes learning exciting. We love the flexibility homeschool gives us while still providing detailed guidelines in the daily schedules. We love the fact that we are not bound to a classroom, we can do school outdoors and make the most of the environment in which we live. Thanks to Sonlight our children are getting an outstanding and well-rounded education." In this photo, cousins Scott (7) and David (8) share Core C and Science D.
We love the togetherness that Sonlight allows us to have. Sometimes I wonder if I am doing enough for them when it comes to school. Some days it feels like nothing is 'sticking.' Then my kids randomly bring school into conversations with others and I know we are doing OK! For example, when my 8-year-old discusses ancient Egypt and Rome with my cousin who is a history major in college or when my 6-year-old explains to her fisherman grandpa why his boat floats! We love Sonlight! In this photo, Jordyn (6, Core B) Hayden (8, Core C) and Jackson (3) gather at the dining room table to do schoolwork.
"All my siblings and I love Sonlight. I like it because it allows me to go at my own pace and work by myself, which I couldn't do in a public school," writes Elia (12, Core H) of La Luz, NM. Mom (Lindsay T) writes, "Sonlight has been a constant in our family's ever-changing world. Over the last year and a half, our family has moved five times, with two of those being international moves. All the children, and myself included, actually felt 'at home' once our Sonlight books were on the shelves. We are grateful that no matter where we go, Sonlight remains a constant comfort!" In this photo, Jude (7, Core C) was excited to read about the Middle Ages, so he and Timothy (5, Pre-Kindergarten) decided to act out a battle!
One of the things we love about homeschooling with Sonlight is the opportunity for hands-on learning through fun field trips. We use the 4-day program and schedule field trips or relaxed family time on the 5th day of the week. It is so nice to not have to fuss with scheduling our work load; we just follow the Instructor's Guide. Here, we are at the 18th Century School House at the Ohio History Museum in Columbus. In their family's fifth year of Sonlight, Rachel (11) is using Core F while Joel (9) and Eric (7) share Core A.
—
Michelle B,
Lebanon , OH
I enjoy Sonlight because we can combine ages in our curriculum. For example, we can all study marine science together instead of having to choose different science curricula. It saves us time and everyone gets to learn together, which makes it fun. In this photo Eli (8), Maggie (6), and Hezekiah (10) study ocean creatures at the ocean. Though the children use separate Core programs (Cores E, C and F), they enjoy sharing Science D together.
—
Gretchen P,
Melbourne , FL
I love how homeschooling gives us the flexibility to homeschool wherever we want. This spring, we've really enjoyed getting to be outside while doing school. Even the three-year-old likes listening in on school time! We have loved using Sonlight, and we have so many favorite books. This year, Core F has been a delight. It has really opened the kids' eyes to how much further we have to go in sharing the Gospel. In their eighth year of Sonlight, Davalyn (13, Core F), Reese (12, Core F) and Timothy (3) use the Markable Map to plot locations they are learning about in the 10/40 Window.
The Instructor's Guides are invaluable and save me an incredibly amount of time. The company as a whole most closely shares my core values more than any other homeschool company I have researched. My children have both developed a love of reading that is incredible for their ages and this highly digital world. I also love using Sonlight's timeline as we go through history together. It has helped me put the pieces of history together much better than my public school education ever did! I feel like I am learning just as much as my children. In this photo, Samuel (8) and Evelyn (6) celebrate their stacks of books from Core B on Box Day.
—
Harmony M,
Elizabeth , CO
Sonlight has brought out the joy we were lacking and a love for learning that even I, as the teacher, didn't know I had. My kids are readers so they love the books, (which is why I chose to try Sonlight in the first place) but their favorite subject is Science. They love that it's hands-on, and would do it all day if they could. In their second year of homeschooling with Sonlight, Sterling (12) and LaRue (10) share the 3rd Grade Full-Grade Package. This photo shows the two working on an experiment from Science D: Biology, Taxonomy, and Human Anatomy.
—
Rebekah M,
Norton Shores , MI
Learning together has become a foundation of our family. As a hesitant homeschool mom, I researched tons of options for our children's education. We chose Sonlight because of its literary approach to learning and the well-thought-out Instructor's Guides. Sonlight gives me everything I need to make learning fun and effective without a lot of effort collecting resources. It's all right there! When people tell me, 'I could never homeschool.' I reply, 'I said the same thing; then I found Sonlight! In their fourth year of Sonlight, Elijah (9, Core D) and Amelia (7, Core B) look up the answer to a science question from Science D.
—
Tracey B,
Westminster , CO
Before Sonlight I spent hours searching out homeschool resources. When I realized that my favorite books were included in Sonlight, I gave it a try. I was amazed by the simplicity and organization of the Instructor's Guide. It is clear and easy to follow. I can now spend less time fretting over what to read and more time enjoying the kids, trusting Sonlight's well-researched literature based curriculum. In their first year with Sonlight, Mom, Pieter (7), and Sarah (6) read from Intro to World History, Year 1 of 2 (Core B).
—
Anne M,
Grand Rapids , MI
I love the way the Instructor's Guide binders are set up. They are so easy to use. The book selection is amazing and the science worksheets are excellent. Sonlight ties everything together so well. I love how the Bible reading is incorporated into the schedule, as well as Bible memorization. It's always so neat when the Bible reading will tie perfectly with another book we are reading at the same time, or a passage from the History texts. Thank you for providing a curriculum that is so rich! In their fourth year homeschooling, James (8) and Grace (7) are excited for Dad to come home and read Eric the Red and Leif the Lucky. This year, James and Grace shared Core C, Science C and Grade 3 Readers with Language Arts.
—
Gina S,
Sweet Home , OR
While the cost of Sonlight may initially be startling to some, we have found it more than worthwhile for the many years (and many children) who use each Core. I adore that my children use their free play time to re-read books from past years, to reenact historical periods they have studied with their siblings, and to re-study topics that interest them now. Thank you, Sonlight, for the family unity and creativity you have brought to our home! In their fifth year homeschooling, Brandt (8) [pictured] and Nolan (7) share Core E. Nathan (4) uses the Pre-Kindergarten Full-Grade Package while London (3) and Brooks (1) listen in.
By using Sonlight's 'real life' books, I am better able to equip my children to face the world with a strong, vibrant faith. I love the fact that we can learn from a biblical worldview while using well-written, engaging, and real-to-life books. Sonlight's incorporation of quality literature has made avid readers out of all my children. Here, the R family 'does school' on a hike. In their seventh year of Sonlight, Jonathan (10) and Benjamin (8) share Core B while Claire (12) and Katie (11) share Core E.
—
Sarah R,
Mount Hope , WV
One of my favorite things about Sonlight is the option to combine students into one Core. That made it easy for us to use the same curriculum for two students whose grade levels are close together. This alone has made our homeschooling experience more doable. We love reading together as a family and the books are so diverse and engaging that it makes learning fun and inspiring! Sonlight fosters a cultural awareness and appreciation which you would be hard-pressed to find in other curricula. In this photo, I Rode a Horse of Milk White Jade from Core F comes to life when the girls visit a cave like one in which the main character from the book spends the night. Caylee (11) and Brenna (10) are enjoying the adventures in Core F.
—
Julie L,
Madisonville , LA
Our goal for teaching our daughter at home was to develop in her a love for learning and a love for reading. Sonlight has played a major role in doing just that. I have been delighted with the book selections with characters and themes emphasizing values that we build our lives upon such as goodness, godliness and grace. Sonlight has put together educational selections that we did not have the time or resources to put together ourselves, enabling us to teach our daughter efficiently and confidently. In their third year with Sonlight, Elise (5) enjoys her Kindergarten Full-Grade Package, especially when she gets to read her books to her best friend, Pip.
The Christian worldview approach that Sonlight offers in their curriculum struck a chord with my heart right away. I wanted our curriculum to be Christ-centered. When we decided to homeschool our daughter I knew that even though I hold a Bachelor's Degree in Elementary Education, I wanted a curriculum that was laid out for me and I wouldn't have to do a lot of work preparing each day or piecing different curriculums together. I loved that Sonlight's curriculum is steeped in literature. Awesome literature. On top of that they offer a great payment plan and a Love-it guarantee, so my husband and I both knew we couldn't go wrong. On her very first Box Day, Rebecca (8, Core B) holds up the books she's excited to start reading.
The History and Geography components of Sonlight's Core B and C curriculums have exponentially enhanced our experience of living overseas. While Sonlight clearly sets us up to teach from a Christ-centered perspective, I love that it doesn't shy away from the controversial issues. Rather, it helps parents think through how they want to present various ideas to their children. It leaves room for families to make their own decisions and encourages children to become leaders in thinking through and dialoguing about today's world issues. We long for our children to contribute to their world with wisdom, joy, and a Christ-centered perspective on loving their neighbours. Sonlight is helping us to achieve these goals! In this picture, Maisha (7) reads a Core C History book, The Usborne Book of World History, in an ancient Roman coliseum in North Africa.
I used to spend many nights fearing the future. Sonlight has removed that fear and replaced it with joy and excitement for the future. In a short time [after starting Sonlight], we learned how user-friendly it really was. For a large busy family, this was perfect. But then after two years, I decided to put my own curriculum together. After a season of 'doing it myself' I begged Sonlight to take me back! Being out there on my own made no sense when Sonlight had already done all the research I needed and had the best books and the best system around. My kids all cheered when the boxes of Sonlight books started showing up again! In their eighth year homeschooling, the P family (of 14!) enjoys the close bonds that have formed through learning and growing together with Sonlight.
Sonlight's passion and focus on missions has truly made an impact on our family. Our children are reading and learning about faithful men and women who have given their lives to the work of the Gospel. They are hearing about the work of real missionaries, and it is inspiring them to follow the call. I listen to them dream and discuss their future plans for when they grow up. In this photo, the D family, Aslan (4), KatieBelle (8), Atticus (6), Shamus (Dad), and Alistair (1), grab a favorite Science book (Frogs and Toads) from Core A, and go exploring for frogs and toads down by the creek.
—
Danalinn D,
Georgetown, IN
"Through the journey of a school year, our girls gain great understanding of the history and cultures that they study, all through these amazing resources," writes Stephanie S of Woodstock, GA. "Last year we found ourselves living in China for missions work and our girls attending an international school. Our girls missed the richness of the Sonlight reading materials, and I greatly missed reading through history with them. It was wonderful to return to America and work our way through the Eastern Hemisphere (Core F) curriculum. It highlighted our experiences in China and brought a greater appreciation of the culture we had been a part of for a short time." In their sixth year with Sonlight, Madeline (7) and Emma (7) share Core C while Abigail (11) uses Core F. In this photo, they practice calligraphy with materials from Core F.
—
Stephanie S,
Woodstock , GA
"Thank you, Sonlight, for helping me capture my son's vivid imagination, and for satisfying our thirst for quality literature," writes Kristina H of Reading, MA. "Our favorite time of the day is when we get to snuggle up together with our Read-Alouds. I know that Galen (5) is involved in a book when his toys lay abandoned in his lap and he's gazing open-mouthed at my face. With Sonlight books, that happens nearly all the time!" In their second year homeschooling with Sonlight, Mom snaps a photo of a common scene: Galen (Core A) tucked away in a favorite place to read.
—
Kristina H,
Reading , MA
Sonlight has helped develop a true love of learning for our two boys. I was hesitant to choose Sonlight because of the cost and also because my younger son is on the young side for Core A. We used a different curriculum last year, however, my son just wanted to 'read more!', so we are happily returning to Sonlight full-time this year and my son is so excited about our new stack of books. I have to admit, I am too. In this photo Megan caught her two highly active boys, Jacob (4) and Andrew (6), stopping to read their books after a day of shopping, before they had even made it fully inside the house.